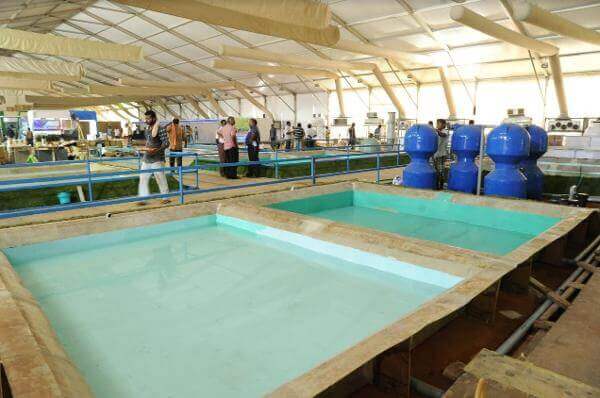 All set for Aqua Aquaria India 2017
The fourth edition of Aqua Aquaria India (AAI), one of the largest exposition of its kind in Asia, will get under way at Nehru Maidan on Sunday.


The 3-day biennial event will deliberate on measures to promote ornamental fishery and recent advances in aquaculture. Recent advances in sustainable aquaculture and ornamental fishery as a money-spinning export industry will dominate the proceedings of the fourth edition, a showpiece event of Asia's marine sector.


"Diversification in sustainable aquaculture" is the focal theme of the exposition organised by the Marine Products Export Development Authority (MPEDA), a nodal agency of the union ministry of commerce and industry dealing with promotion of marine products export and allied activities.


Minister for fisheries, sports and youth empowerment Pramod Madhwaraj will inaugurate the event at Town Hall. Dakshina Kannada MP Nalin Kumar Kateel will deliver a keynote address.
Department of animal husbandry, diarying and fisheries secretary Devendra Chaudhry will be the guest.
"AAI-2017 will showcase the latest strides in aquaculture and ornamental fish breeding and rearing technology to encourage diversification and intensification in a sustainable manner. It will also discuss current challenges and hammer out a roadmap for giving a fillip to the resurgent aquaculture sector, the mainstay of India's marine products economy," said MPEDA chairman A Jayathilak.
This is for the first time AAI is being organised in the west coast of India. It is also the MPEDA's maiden event in Karnataka. Around 3,000 delegates from India and abroad are expected to participate in the event where 250 stalls will display various production and harvest technologies, machinery and accessories in aquaculture as well as ornamental fishery sectors.
Internationally acclaimed experts on aquaculture and aquariculture from India and abroad will address technical sessions on topics of current interest, he added.
Source: The Times of India (weblink)
View All