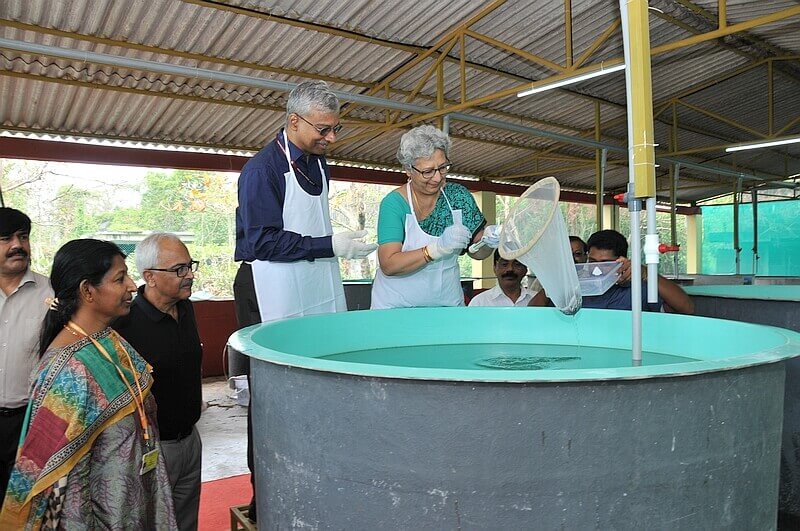 MPEDA's Self Sufficiency Project launched
The Marine Products Export Development Authority (MPEDA) has launched its first Self Sufficiency Project (SSP) at its Hatchery and Training Complex at Vallarpadam, which would be stepping up MPEDA's efforts toprovide quality seeds for farming and help the aqua farmers export their produce in international markets and meeting stringent quality norms.
Under the project, nursery rearing facilities for Genetically Improved Farmed Tilapia (GIFT) seeds have been set up for supply of quality seeds to the aqua farmers.
Union Commerce SecretaryMs. Rita Teaotia, while inaugurating the SSP here on Thursday, said there is an imperative need to provide best products as competition from other countries is increasing. "Every single aspect of the product which is going to the international markets has to be of best quality. This is the message that has to go to everyone along the value chain and not just the exporters. Good practices and ensuring the quality should be the cardinal principle," she stressed.
Hailing the efforts of MPEDA, Ms Teaotia said it has worked in close partnership with the exporter community and has been able to add value over the years. "This unity has worked towards the common objective of increasing the exports from India, ensuring that our quality standards are adhered to and that our global reputation is maintained."
The Commerce Secretary also made a strong pitch for maintaining unified product standards for exporting globally to raise the country's reputation. "Instead of classifying the product quality standards for the European Union, the US or Japan, we should be able to export best quality products to every country. I believe it is time for us to actually understand that every single country in the world deserves the outstanding quality from us. This will raise our reputation globally," she noted.
MPEDA Chairman Dr. A Jayathilak said plans are also afoot to expand the nursery rearing facilities at Hatchery and Training Complex at Vallarpadam, located near the International Container Terminal, for other species such as seabass, mangrove crab and vannamei shrimp.
"This will ensure quality seed material to the aqua farmers so that the supply of exportable variety of finfish and shellfish gets a huge boost. It will also create more livelihood opportunities for the stakeholders," he noted.
View All